I have started 2015 with an anthology
The Individual and Society
. Divided into five parts: Caste/ Class; Gender; Race; Violence and War; and Living in a Globalized World, this has some wonderful pieces on all these important issues. While many of the writers were familiar to me, I have also discovered new voices like Maya Angelou, Omprakash Valmiki, Jamaica Kincaid, and Roger Mais. Reading Manto's
The Dog of Tetwal
and Amitav Ghosh's
The Ghosts of Mrs. Gandhi
was a deeply moving experience.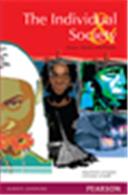 I am happy with this book (though a bit unimpressed by all the typos - all the more surprising since it is a prescribed text in an Indian University) and wondering what else will I read in 2015.
First Line: Jotirao Phule (1827-90), the son of a mali, completed his primary education in 1838.
Title: The Individual and Society
Editor: Vinay Sood, Indira Prasad et al.
Publishing Detail: ND: Pearson, 2005
First Published: 2005
Pages: 251
Source: Borrowed from CL [820-8 S62I]