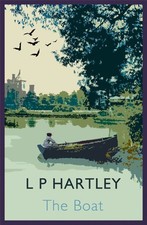 At the beginning of the second world war, Timothy Casson, returns from Italy - where he has spent much of his adult life and where he finds himself more at home than in England - and settles at Upton-on-Swirrel. A freelance-journalist, Casson chooses his home because it has a boat-house where he keeps his boat and dreams of sailing down the river. Only the village is more concerned about its fishing and does not quite allow Casson to use his boat. At first Casson waits for the permission to be granted but as one slight follows another, things come to a head....
I found the book to be uneven, at times I could not put it down, at others it simply seemed to drag. Definitely not as interesting as Hartley's
The Go-Between
but okay as a portrayal of English class-consciousness and the changes that the war was bringing to a closed community.
Two interesting facts that I came to know was that a late morning-snack or early lunch was called 'elevenses' (it was the same in
Death in the Wrong Room
) and Italians were being referred to as 'ice-creamers'.
*
First Line: "This is a quiet little hole," said the cook.
Publishing Details: London: Putnam & Co., 1949.
First Published: 1949
Pages: 540
Source: CL [823 H25B]
Other books read of the same author: (Among Others) The Go-Between